Cautions
Always "Eject" your mag and wait for the confirmation message on-screen and the LED light to turn off before pulling it out of the camera's brain.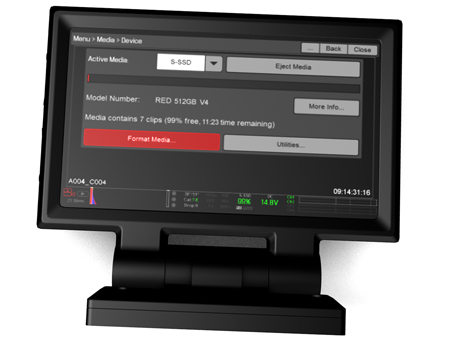 Relive, Don't reshoot!
In the event of RED MINI-MAG® or camera failure, to ensure there is no risk of further damages caused that may impede data recovery process:
We are proven masters
If anyone can fix this, it's us
Here at Jinni Tech Ltd. we got extensive knowledge of Red mags. We combined our technical knowledge of Red mag and Red Camera with our highly specialist software knowledge and added our expertise in SSD integrated data encryption plus our understanding of the bits and pieces of R3D and Prores file formats to maximise chances to get every possible shred of your footage out of a damaged drive.
We have in-house state-of-the-art technology, top-of-the-range tools and developed our own sophisticated techniques and algorithm. We have trained and dedicated expert engineers to get your files back from the deepest sectors of a damaged drive. We can even recover data from a physically dead drive. Also, we can repair or upgrade your dead or physically damaged RED MAG ® or RED MINI-MAG ®. So, if there is any hope to get your footage back, it probably is via us!
Contact us and we will take it from there.
Data Recovery prices start from £90 only!
Step 1: Make your mind about the value of your time and your footage. If they are valuable then do not interfere with the damaged drive and go to Step 2
Step 2: Contact us. We will try our best to establish whether or not we could help before you send in your mag/drive.
Step 3: Free assessment and no obligation quotation!
You will send in your MAG/Drive. We assess your MAG and give you an estimated percentage of footage we can recover and a "fixed" price quotation within 1 business day. Our prices starting from £90, which would cover the cost in most cases, but that may go a bit higher for more serious damages. We proceed only if you were happy with the assessment result and quotation. If you were not happy we will return your MAG as it was sent to us.
Step 4: We proceed with the recovery process. It normally takes 1 working day for most MAG and 2 business days for MAGs of 1TB (or above in case of data recovery from your post-production machines drive). We transfer the extracted footage on an external USB HDD. We will keep you updated of the process by sending you snapshots of the recovered footage. Your MAG and the external HDD will be sent back to you via International Express Delivery.

* We either will buy a new external USB 3 HDD for you, or you can send yours if you got a spare one (minimum specifications must be met)
So, if you had a bad day with your media, go ahead and drop us a line at support@jinnimag.com,
our capable friendly team is happy to save your valuable footage
The entire process takes between 3-5 working days.
In case the recovery proven to a be a failure, you will not get charged